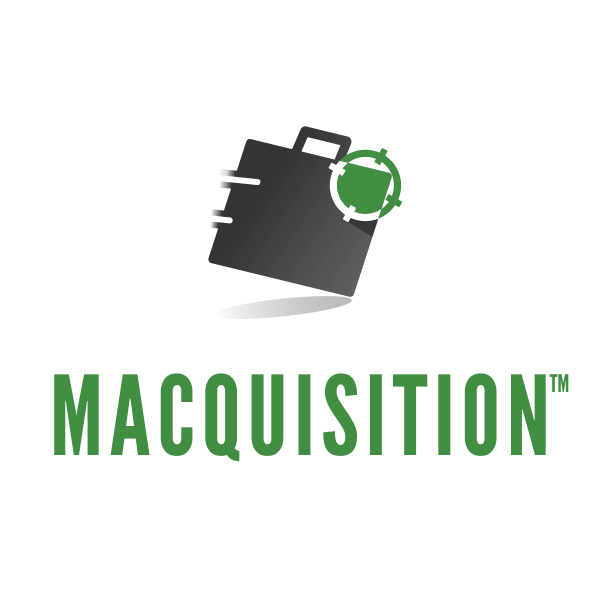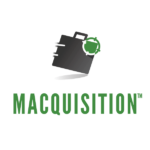 BlackBagTech MacQuisition
MacQuisition je řešení 3v1 pro zajištění live dat, cílený sběr dat a pořizování forenzních kopií.
Popis
MacQuisition je řešení 3v1 pro zajištění live dat, cílený sběr dat a pořizování forenzních kopií. Už přes 10 let pomáhá zkušeným forenzním expertům s bezpečným bootováním a kopírováním dat z více než 185 různých typů počítačů Macintosh v jejich nativním prostředí – dokonce i z Fusion Drive. S MacQuisition se tak vyhnete komplikovanému rozebírání počítačů.
CÍLENÝ SBĚR DAT
výběrové zajištění souborů, adresářů a uživatelských adresářů s vyloučením známých systémových souborů a dalších nerelevantních dat
zachovává cenná metadata zachováním jejich propojení s původním souborem
autentizace zajištěných dat kontrolními součty MD5, SHA-1 nebo SHA-256
podrobné logování činnosti během procesu zajišťování
selektivní zajištění emailů, chatu, kontaktů, kalendáře a dalších dat v rozlišení dle uživatelů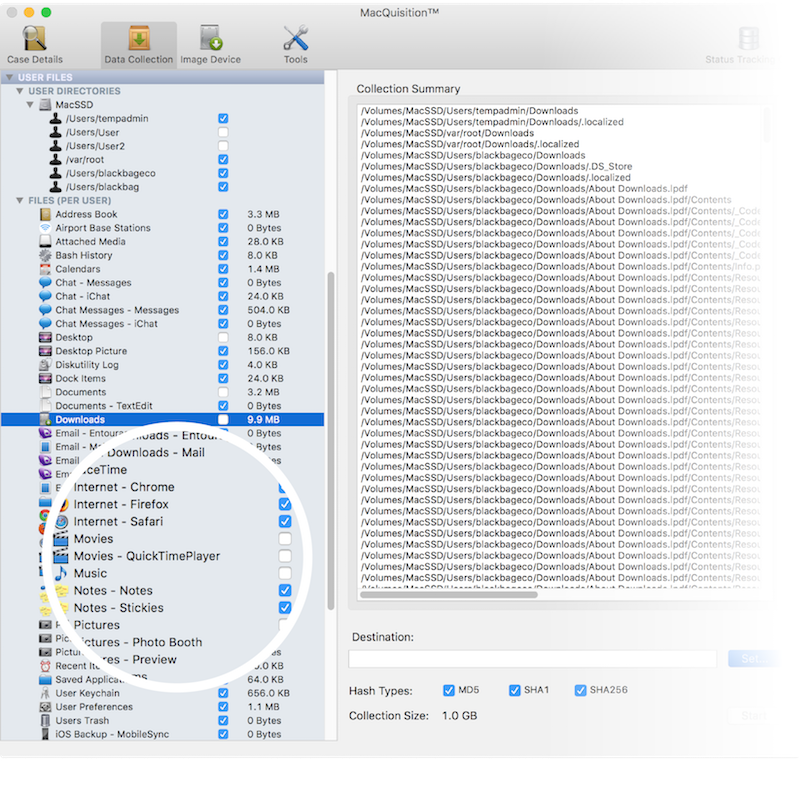 ZAJIŠTĚNÍ LIVE DAT
zajištění dat z běžícího systému – internetové artefakty, chaty, multimédia
bezpečné vytvoření obrazu paměti RAM a uložení na připojené zařízení
výběr z 26 možností zajištění systémových dat, vč. aktivních procesů, systémového stavu, tiskové frony atd.
podrobné logování činnosti během procesu zajišťování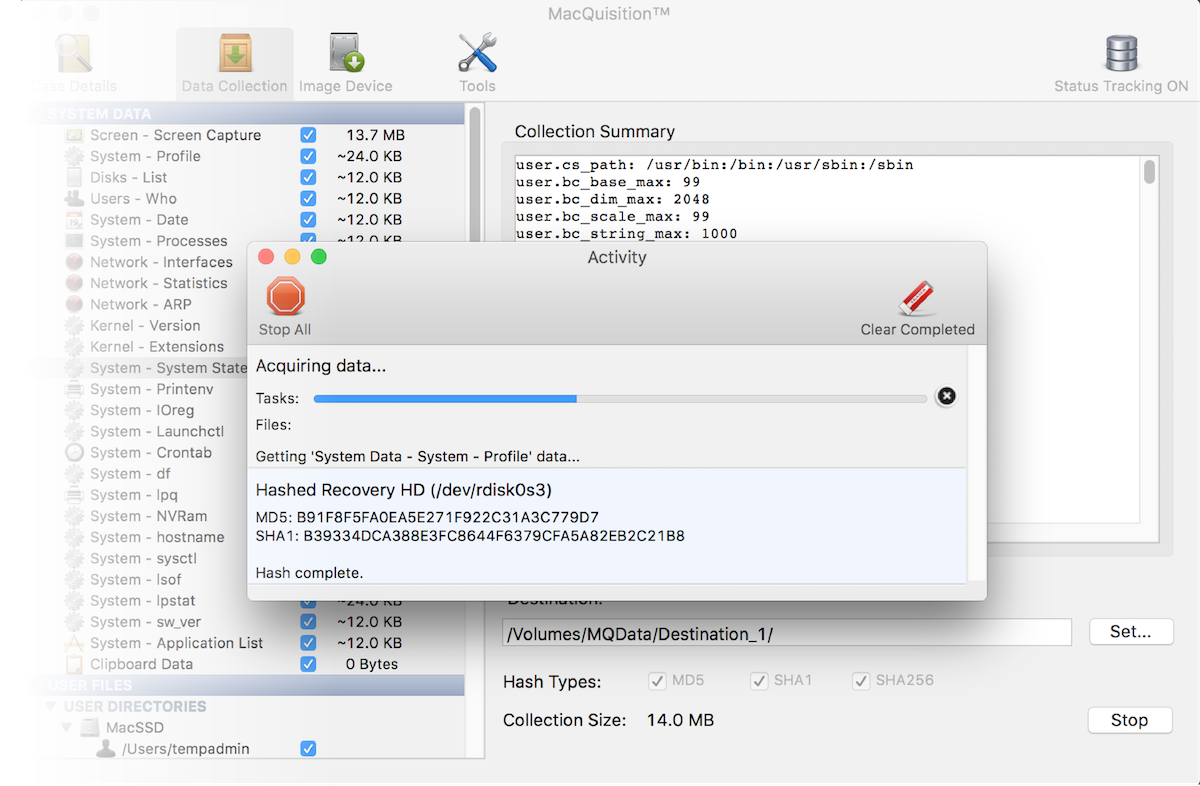 POŘÍZENÍ FORENZNÍCH OBRAZŮ
MacQuisition automaticky rozezná kombinovaný oddíl Fusion Drive a zprostředkuje ho pro kopírování
v případě existence FileVault 2 je možné ho s využitím hesla, keychain souboru nebo recovery klíče připojit pouze pro čtení a následně provést triage nebo kopírování vybraných souborů
využití vlastního systému zajišťovaného zařízení k pořízení forenzního obrazu díky bootování z MacQuisition USB donglu
zajišťuje ochranu proti zápisu ze zdrojových disků při umožnění zápisu na cílová technologická média forenzního technika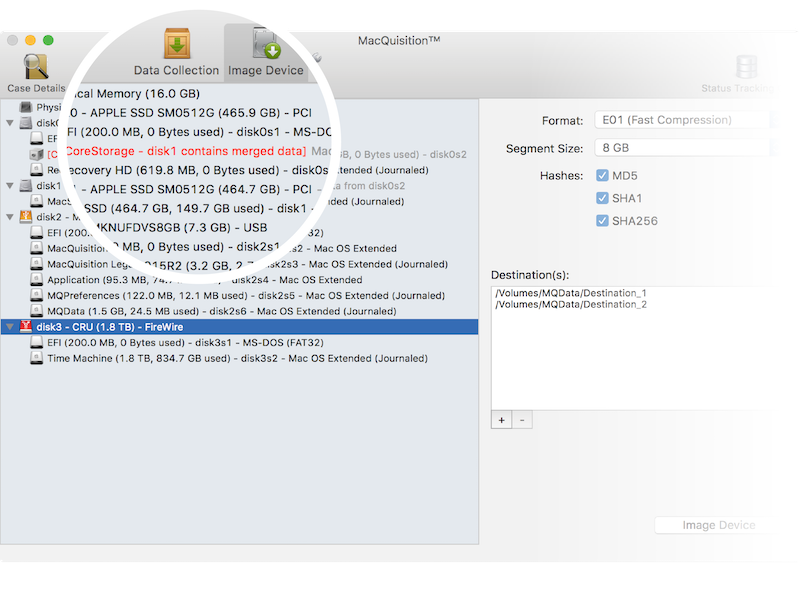 ​
MacQuisition is a unique forensic imaging and acquisition tool capable of booting hundreds of Mac OS X systems, as well as acquiring live targeted data. MacQuisition is the trusted forensic solution that runs within a native OS X boot environment.
Below is the range of Mac systems supported by the newest version of MacQuisition, followed by instructions for examiners in need of a solution for older Mac hardware. For Mac models with a USB-C port, we advise using an Apple USB-C adapter. Other third party USB-C accessories may not be compatible.
*Note: Not all recent systems have been fully tested. The compatibility table represents the full list of systems that MacQuisition is built to support. If you have any issues with system compatibility, please contact our Support Team.
| Current MacQuisition Release | Date Released |
| --- | --- |
| 2020 R1 | February 20, 2020 |
Type
Earliest Compatible System*
Most Recent Compatible System
iMac
iMac (Late 2012)
Model Identifier: iMac13,1 / 13,2
iMac (2019)
Model Identifiers: iMac19,1 / 19,2
iMac Pro
iMac Pro (Late 2017)
Model Identifier: iMacPro1,1†
iMac Pro (Late 2017)
Model Identifier: iMacPro1,1†
Mac mini
Mac mini (Late 2012)
Model Identifier: Macmini6,1 / 6,2
Mac mini (Late 2018)
Model Identifiers: Macmini8,1
Mac Pro
Mac Pro (Late 2013)
Model Identifier: MacPro6,1
Mac Pro (2019)
Model Identifier: MacPro7,1
MacBook
MacBook (Early 2015)
Model Identifier: MacBook8,1
MacBook (Mid 2017)
Model Identifier: MacBook10,1
MacBook Air
MacBook Air (Mid 2012)
Model Identifier: MacBookAir5,1 / 5,2
MacBook Air (2019)
Model Identifiers: MacBookAir8,2
MacBook Pro
MacBook Pro (Mid 2012)
Model Identifier: MacBookPro9,1 / 9,2
MacBook Pro (2019)
Model Identifiers: MacBookPro16,1
* Certain older models that are not supported by the MacQuisition 2020 R1 partition may be bootable by other MacQuisition boot partitions. Having trouble identifying a Mac OS X system? We recommend the MacTracker App, available for free at the App Store.
† T2 chip default encryption may be present.
Legacy Macs
Trouble booting older Mac systems? Within each MacQuisition dongle, there is a legacy version of the software that can boot Intel-based Mac systems that predate the compatibility table above. For even older systems, including those running OS 9 (Classic), all MacQuisition customers have access to an ISO boot disk. ISO downloads are available within MacQuisition customers' individual account pages on BlackBag's website. Please contact support@blackbagtech.com with any questions regarding current compatibility or use of the ISO boot disk.
A forensic examiner can boot from the MacQuisition USB dongle and image out to an external collection device using the source computer itself. Because MacQuisition boots into a forensically sound environment, no additional write-blocking software or hardware is necessary. The examiner only needs the source computer, a MacQuisition USB dongle, and a destination collection device to perform this type of static data acquisition.
To boot from the MacQuisition USB dongle and acquire data from a Mac Pro, MacBook Pro, or MacBook Air computer, with the power off, and the source system plugged into a power source, insert the USB dongle into a source system USB port and attach an external collection device.
Press the power button and immediately hold down the Option key. The EFI Boot screen (Startup Manager) appears.
Click the MacQuisition icon with the MacQuisition version best suited for the source machine hardware. If you do not know which version you should boot to, check the device compatibility section for further information. Click the arrow below the MacQuisition icon to begin the boot process.
The BlackBag logo appears, and shortly after that, a thin progress bar appears beneath the logo. Next, depending on the hardware model and date of manufacture, the Apple logo may appear for approximately 5-10 seconds. Lastly, the MacQuisition splash screen appears, followed by the EULA.
Important: If the Apple logo appears before the BlackBag logo, IMMEDIATELY shut down the computer by pressing and holding the power button – the source system is attempting to boot to a drive or other device, and not to the MacQuisition dongle.
If a gray screen with a slashed circle appears, shut down the system by pressing and holding the power button, and boot the system to the 'MacQuisition Legacy' partition.
Our latest release, MacQuisition™ 2020 R1, includes:
Triage before collection in both live and booted mode
New Browser View to preview file content prior to acquisition
New Search View to locate files using filters or keywords before acquisition
While triaging in the Browser and Search views, files and folders can be added to the data collection
Ability to stored data collection in the .L01 logical evidence file format
Added capabilities to decrypt unallocated space on T2 drives
Added hashing for AFF4 images as the data is collected
Restructured MacQuisition log files
Capture RAM and targeted collections live on macOS 10.15 (Catalina)
Support added to boot newer hardware
Key features of MacQuisition™ 2019 R1.2, includes:
Fixed booting on T2 Macs, previously was booting to internal Recovery partition
Fixed Target Disk Mode on MacBook Pro 2018 systems that previously resulted in error message
Ability to create physical images of Macs with the Apple T2 chip
Support for imaging APFS Fusion drives
Capture RAM and targeted collections live on Mojave
Support added to boot newer hardware